Migrant crisis: Your questions to euronews' journalists
Comments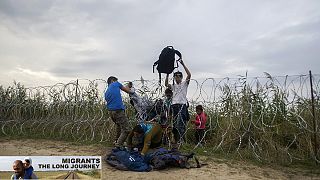 Following our reports into the Long Journey undertaken by migrants from the Greek islands through to Hungary, the journalists who cover the region for euronews share their experiences.
Euronews' offices in Athens and Budapest, Istanbul and Brussels have been at the forefront of covering the plight of refugees, the reactions of local authorities, police and national governments.
So if you want to know who the migrants are, what they want, or what the Hungarian and Greek governments are doing to help or hinder their progress, you can ask via the comments below, on Facebook, on Twitter #askeuronews or by email to TheLongJourney@scribblelive.com
Our journalists speak in English, Hungarian and Greek so we'll try to translate the important information in these languages.
Live event on Friday September 11 from 13:30
CET