Pope Francis makes marriage annulments easier
Comments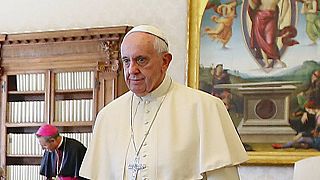 Pope Francis on Tuesday (Sept. 8) made it easier for Roman Catholics to get marriage annulments, streamlining procedures and calling on bishops to provide more help to divorced couples.
An annulment is a ruling that a marriage was not valid in the first place according to Church law because certain prerequisites such as free will or maturity were lacking.
The 1.2 billion member Church does not recognise divorce, meaning that divorced Catholics must obtain an annulment if they want to remarry in church. Those who don't and who remarry in civil ceremonies are considered by the Church to be still married to their first spouse and living in a state of sin. This bars them from receiving sacraments such as communion.
In a document known as a Motu Proprio, Latin for "by his own initiative", Pope Francis reaffirmed traditional teaching on the "indissolubility of marriage", but streamlined annulment procedures that many considered outdated, complicated and expensive.
He eliminated a previously mandatory review of an annulment decision by a second diocesan tribunal and gave bishops sweeping powers to judge quickly the most clear-cut cases themselves.