Warm welcome as refugees arrive in Germany
Comments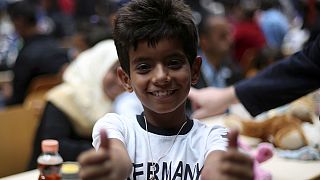 Refugees continue to arrive in Germany with close to 17,000 expected by the end of the weekend.
Welcome treats - the Kamit family from Munich giving sweets and toys to Syrian refugee boy. #Germanypic.twitter.com/HE5alvCXf1

— UN Refugee Agency (@Refugees) September 6, 2015
For some its a chance for a family reunion.
Ali from Kobani in Syria expressed his delight at being met at the station:"It's a good feeling to see your family after these years."
Many of the arrivals are still being transported to hostels across Germany.
Nawras Ali is from from Damascus in Syria:
"Our aim was to stay in Frankfurt, but now, as all these kind people welcomed us and told us to get on this train. I think they are taking us to a certain place near here"
Many refugees still sleeping on first day in Germany, housed for now in converted indoor tennis courts. #beyondtiredpic.twitter.com/bUBh1QRiv7

— Joanna Slater (@jslaternyc) September 6, 2015
The German government says its decision to open its borders to Syrian nationals is an exceptional case based on humanitarian concerns.