Anish Kapoor's controversial Dirty Corner vandalised again
Comments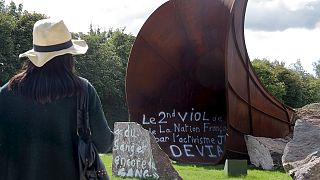 British-Indian sculptor Anish Kapoor's controversial "Dirty Corner" installation has been vandalised for the second time in three months.
Une œuvre d'#AnishKapoor vandalisée : "acte d'une violence intolérable" @catherinepegardpic.twitter.com/4toVt3YrVB

— ChateaudeVersailles (@CVersailles) September 6, 2015
(An Anish Kapoor work is vandalised: "an act of intolerable violence.")
A series of sentences, some anti-Semitic, were painted on the abstract sculpture, which stands in the grounds of the Palace of Versailles, near the French capital.
Des tags antisémites sur la sculpture d'Anish Kapoor à Versailles http://t.co/aFnDnjRAP0pic.twitter.com/K2uzqcqUXA

— RFI (@RFI) September 6, 2015
The piece is known informally as "the vagina of the queen, coming into power." Kapoor has described the steel funnel comprising part of his work as "very sexual," however there is no clear link between the piece and the anti-Semitic graffiti.
France's Culture Minister, Fleur Pellerin, condemned the vandalism:
"We will do everything we can to punish the culprits. They risk a seven-year prison sentence and a fine of a hundred thousand euros. And I want these people to be punished. It's intolerable that there is such behaviour in this country, where culture and freedom of speech are very important."
French President François Hollande tweeted his solidarity with Kapoor and also denounced the "heinous and anti-semitic words which have defaced the work."
Toute ma solidarité à Anish Kapoor dont l'œuvre a été dégradée et couverte d'inscriptions haineuses et antisémites au @CVersailles.

— François Hollande (@fhollande) September 6, 2015
The steel and rock sculpture was cleaned after being spray-painted in June 2015, a move Kapoor admitted he had questioned at the time.
But, he says these "abominable words" will be left untouched, to "overlay and stigmatise" his work.