Tajikistan: Ex-deputy minister blamed for clashes that leave 17 dead
Comments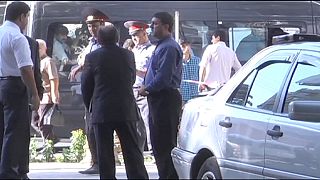 At least eight policemen and nine militants were killed in Tajikistan on Friday in attacks authorities have blamed on forces loyal to the newly-sacked deputy defence minister.
A government building was among the scenes of violence which prompted the US embassy in Dushanbe, the Tajik capital, to shut.
A statement on its website said armed gunmen had clashed with Tajik police early on Friday in the city and that the incidents "may be precursors to other acts of violence".
Tajikistan's interior ministry blamed the attacks in Dushanbe and the adjacent city of Vahdat on a "terrorist group" it said had seized arms and ammunition.
Disaffected minister Major General Abdulkhalim Mirzo Nazarzod
of the opposition Islamic Revival Party of Tajikistan is being held responsible.
A former opposition militiaman, he was brought into the Tajik armed forces under a 1997 peace deal.
The Central Asian nation of 8 million – the poorest ex-Soviet state – is still volatile after a 1992-97 civil war that killed tens of thousands.