People smuggling suspects in court over tragic toddler's drowning
Comments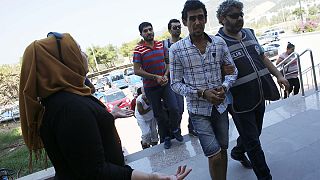 Four Syrians have been remanded in custody by a Turkish court,
after being charged in connection with the drowning of refugees including tragic toddler Aylan Kurdi.
Mothers of the suspects were there to support their sons who were charged with smuggling migrants and causing multiple deaths by "conscious negligence".
The mother of one of the men, Meliha Recep, insisted her son was not a smuggler but himself a migrant.
"They did nothing, they were just trying to escape. Our children are also victims. They were just on the same boat, that's all," Recep, dressed in a grey headscarf, told reporters.
The hearing took place at the Turkish resort of Bodrum, near the spot where three-year-old Aylan's body was washed up in scenes that shocked the world.
In Syria's border town of Kobani, Aylan was buried on Friday
with his five-year-old brother Ghalib and their mother.
His father Abdullah, who had hoped for a new, safe life for his family now wants to stay in the war-ravaged town beside their graves.
He wept as his sons and wife were laid to rest, and also called on Arab governments to do more to alleviate the refugee crisis
Abdullah Kurdi survived the perilous crossing from Turkey that killed his family and at least nine other people packed onto two small boats headed to the Greek island of Kos just a few kilometres away.
Harrowing images showing Aylan's tiny body have put a human face on this crisis – and forced European governments to accept that this is a refugee emergency that cannot be ignored.
Indian artist creates a sand sculpture in memory of little Aylan http://t.co/miY3OXN27npic.twitter.com/kkBUw61lgK

— Daily Mail Online (@MailOnline) 4 Septembre 2015