Destination Germany as thousands of migrants reach Austria from Hungary
Comments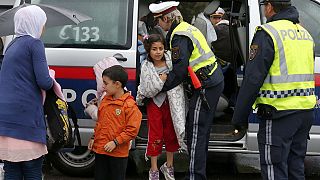 Thousands of migrants and refugees have been streaming into Austria, exhausted after an overnight journey and days of confrontation and chaos in Hungary.
Many are trying to reach Germany, where police have said they expect between 5,000 and 10,000 refugees to arrive in the country throughout Saturday.
Austrian police say 4,000 people crossed their country's border with Hungary in the early hours of Saturday. They expect many more, saying that the number may more than double during the course of the day.
"Our biggest problem is that the Hungarians – after checking back with Budapest – are refusing to let our buses enter their territory and pick up the refugees," said Hans Peter Doskozil, chief of the police in the Austrian province of Burgenland.
It meant the migrants had to cross the border on foot in the rain.
Many have fled the Syrian war. Some had set out on foot from Budapest. After initially trying to stop people, the Hungarian authorities ended up bussing them to the border.
A Hungarian government spokesman at the frontier called for a joint European solution to handle 'illegal migration'.
AT just let through c4500 mostly unknown migrants without any checking and documents… pic.twitter.com/BtDF9gw3Lq

— Zoltan Kovacs (@zoltanspox) September 5, 2015
Sometimes, happy endings can take place in a bus full of refugees on the way to #Austria. http://t.co/RekXNbzFwxpic.twitter.com/c2SOhvCP5c

— Nabih (@nabihbulos) 5 Septembre 2015
In Austria, local buses have been taking people on, either to Nickelsdorf train station, or to a local refugee centre if they wish to stay.
But many chose to board trains to Salzburg. They want to go on to Germany, which has agreed with Austria to waive the rules of an asylum system that has fast become obsolete.
Back at Budapest's Keleti station, still more people have been arriving after reaching Europe via the Balkans.
Others have decided to camp out and wait rather than walk. But trains to western Europe have been halted for days to stop migrants from travelling. Hundreds spent another night on Friday sleeping rough at the station.
There was tension on Friday when some Hungarian nationalists turned up and began shouting abuse. The migrants chanted back.
Refugees have been offered help and support in Hungary, but many are relieved to leave a country which has not made them welcome.
"But we thank the #Hungary-ian people, many of whom helped us," says Ahmad Majid at #Austria-n border crossing. http://t.co/RekXNbzFwx

— Nabih (@nabihbulos) 5 Septembre 2015
The pressure has told on Hungary, one of Europe's main transit points for migrants.
For a time the authorities insisted that all those entering the country be registered and their asylum applications processed in the country as per EU rules. Later they gave up as the system buckled under the sheer numbers.
The tension has been visible in the south too near Serbia. Hundreds of migrants briefly escaped from a camp at Röszke on Friday, prompting the authorities to partially close the border crossing.