The Front Line: more migrants rescued off Italy while tension boils over in Lesbos
Comments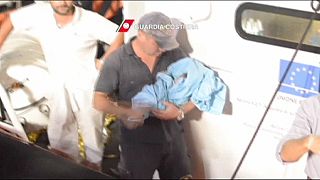 The Italian coastguard has plucked scores more people from the sea.
They were just in time. An un-seaworthy dinghy had begun to deflate after it left Libya.
Buoyancy aids were thrown into the water and a diver jumped in to help those stranded to safety.
100 people were rescued. 40 people are feared to have drowned.
During another rescue, a pregnant woman went into labour on-board a coastguard launch.
Her baby was born safely and was taken ashore in Lampedusa for a check-up.
Greece
Migrants scuffled with police and coast guard officials on the Greek island of Lesbos after they were stopped from boarding a ferry to the mainland.
It came as EU officials promised more help to countries on the front line of the migrant crisis.
Athens will get an interim payment of 33 million euros from Brussels.
The government wants 700 million in total.