Stay in Turkey, Hungary's Orban tells Syrian refugees
Comments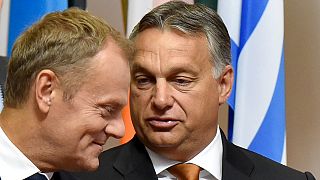 Hungary's prime minister says Syrian refugees should stop travelling to Europe.
Viktor Orban made the comments at a press conference in Brussels.
He is in the Belgian capital discussing his tough new plans to crack down on refugees and asylum seekers with senior EU officials.
"The moral, human thing is to make clear 'please don't come! Why you have to go from turkey to Europe? Turkey is a safe country. Stay there, it's risky to come! we can't guarantee that you will be accepted here," Orban told reporters at the European Parliament.
The Hungarian government plans to change the law by September 15.
Crossing the Hungarian border illegally will become a criminal offence.
Damaging the country's border fence which stretches along its frontier with Serbia will also be considered a criminal act; Hungarian authorities want to deploy extra police there.
The speaker of the European Parliament, Martin Schulz, said that "the Schengen treaty is under threat, this is absolutely clear."
"If we don't solve the problem then the threat for the free movement will increase," he said.
Viktor Orbán will continue to seek support for his hardline policies, reports euronews' Sándor Zsiros.
Orban travels to Prague on Friday to meet with central European leaders, who also oppose new EU asylum proposals.