Cracking the code: the growing role of coding in education
Comments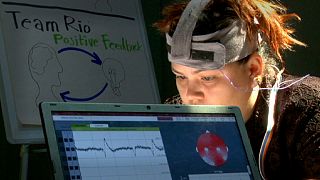 Coding, used to build software for apps and websites, is increasingly becoming an essential skill in the 21st century.
You just type in all this chaos and something comes out of it
Correspondingly, educators around the world are incorporating it into their curricula at all levels, even pre-school. The approach in some places is very much 'you're never too young to learn'. In this edition of Learning World Maha Barada presents three stories exploring the different ways coding is being learned by young people across the world.
France: easy as child's play
At a kindergarten in the French city of St Etienne, teachers are using a robot to teacher children about the essential ideas of programming. The scheme capitalises on kids' love of robots as toys. The most important lesson, the teachers say, is that it's humans that control all machines, including robots.
Hungary: IT-girls pushing the button
The information technology sector is dominated by males, reinforcing the perception that only men are interested in coding. The Skool initiative in Hungary sets out to smash that myth and raise the profile of women in the IT world.
It runs girls-only classes that prove females are just as interested in and capable at coding as their male counterparts.
Netherlands: Hack the Brain
An experimental event staged simultaneously in Amsterdam and Montreal seeks to take coding to a whole new level. Hack The Brain brings together programmers, designers, philosophers, scientists and artists. They explore the possibilities of transmitting brainwaves from one person to another using computers. It's a daunting challenge but one with potentially huge implications for humanity.