China-Japan war pain still festers
Comments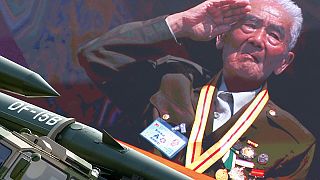 China's role defeating Japan in the Second World War it feels has never adequately been recognised in the West, and it is taking steps to address that.
Read our article China shows off military force in parade marking Japan's WWII defeat about Beijing's official "Memorial Day for the Victory of The Chinese People's War of Resistance against Japan.
What follows here offers some description of the grounds for China's grievance.
The Sino-Japanese War — the Republic of China against the Empire of Japan — raged from 1937 to 1945. Prevailing estimates of the total number of Chinese dead are at least 20 million (15 million wounded). The calculation of Japanese losses, cross-referencing records with historical scholarship, is below one tenth of that.
The Second World War total death toll was 60 million people — one third of them in Asia — and 95 million refugees in China.
The greatest Asian armed conflict in the 20th century saw a largely traditional China fight the modern forces of Japan alone for four years, until World War Two extended into the Pacific.
The Chinese nationalists and communists fighting each other temporarily retrained their guns on the common enemy.
Among the atrocities, the Imperial Army of Japan, after seizing hard-won control of the nationalist capital Nanking, tortured and murdered some one third of a million — mostly civilians and captured troops. And tens of thousands of Chinese women were raped over a period of six weeks. Europeans there bore witness. That was at the end of 1937.
With the Japanese surprise attack on the United States naval base Pearl Harbour in Hawaii on December 7, 1941, the Americans declared war on Japan.
More allied support started going towards China. Japan's fronts multiplied, victories were replaced by defeats, and Japanese war crimes also multiplied.
On August 15th 1945, Emperor Hirohito broadcast a speech of unconditional military surrender. A few days later, the Japanese forces in China stood down, formally surrendering on September 9th.
Verging on civil war, China's reconstruction and rehabilitation were handicapped. The traumas left unattended included those of the sex slaves, as in all Japanese-occupied territories, between tens of thousands and hundreds of thousands of abducted women.
Zhang Xiantu was one of the so-called 'comfort women' — aged 15 when she was taken — and is now 89. Hirohito lived to see Japan become the world's second biggest economy. Beijing agreed not to seek any restitution for war crimes. Zhang has never received even an apology.