Migrants: thousands bed down for the night in Budapest
Comments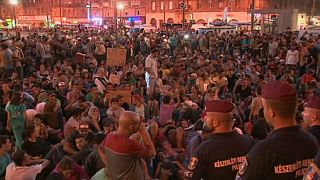 Nightfall in Budapest has not dimmed the protests outside the city's main railway station.
Hundreds of migrants are stranded here.
On Tuesday, the Hungarian authorities opted to enforce the Schengen rules for travel between member states in the EU.
This effectively means Keleti station is closed to those without the relevant passport or visa allowing onward travel.
Andrea Hajagos is the Euronews correspondent on the scene: "Only those with the correct travel documents are being allowed to travel internationally by train. Most of the refugees are waiting here to find out what will happen to them. So far, they have no idea how long they may have to wait."
Hungary's foreign minister says the country will register all those arriving on its soil and send economic migrants back to their country of origin.
Meanwhile, those who left Budapest before the clampdown have begun arriving in Germany.
At least two thousand have arrived here in Munich over the last two days.
Germany is anticipating 800 000 asylum applications this year, almost four times the total for the whole of 2014.