Schengen recoil could turn EU travel back 20 years
Comments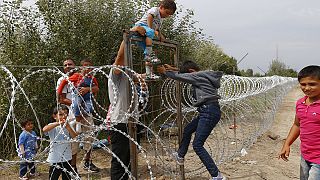 European Union border control systems are under an unprecedented strain with the asylum seeker crisis. The EU bloc's external borders have physical boundaries and passport and customs checkpoints like anywhere else in the world, basically. Most of the borders inside the bloc no longer have this.
On June 14th 1985, European Economic Community Member States (Belgium, France, Germany (as it was then, pre-reunification), Luxembourg and the Netherlands) decided to get rid of internal borders — all the bloc's founding members except Italy. That first agreement was signed near Schengen, a small town in Luxembourg.
The countries working under the Schengen agreement do not systematically check travellers' ID, they can pass freely from one country to another. A convention was added in 1990 and the arrangement entered force in 1995. Barriers and border buildings were dismantled 20 years ago.
The Schengen Area has 26 signatory countries. This includes 22 EU states, but not Britain and Ireland (which opted out by choice), or Cyprus, Bulgaria, Romania and Croatia. Non-EU members Iceland, Norway, Switzerland and Liechtenstein are, however, Schengen states.
The border-free Schengen Area guarantees free movement for more than 400 million EU citizens, and many non-EU nationals legally in the EU, but nationalists across Europe blame Schengen for the ease with which many migrants have travelled from southern to northern Europe.
To bolster security, in 2004 the Council of EU governments created the European Agency Frontex to oversee and coordinate between the various national external border managements. Its budget for 2015, however, comes to just 114 million euros, which does not stretch very far in an emergency.
The Schengen agreement has been never suspended over migration, just for major sport events and international meetings or as a precaution against terrorist attacks. But Germany warns that it could be, if refugees are not allocated fairly among all the EU states.