Turkish police raid media group over 'terrorist financing'
Comments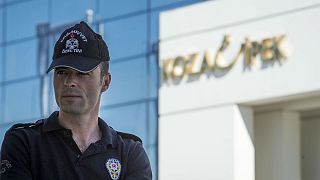 Turkish police have raided companies in Ankara belonging to an independent media group prompting renewed concern about a crackdown on freedom of the press.
The raid targeted 23 companies which form part of the Koza Ipek Corporation. They are suspected of "giving financial support to terror organisations," according to state-owned media.
Police seized documents and computers found at the companies and several people have been detained.
The raid led by Turkey's Financial Crime Investigation Board (MASAK) was launched at around 8 a.m. and was first reported by Kanaltürk and Bugün television stations, two media outlets owned by Koza Ipek.
The Turkish Journalists' Association (TGC) condemned the raid, saying that "journalists cannot be silenced."
A police search has also been launched at Ipek University, set up by the company's founder, Akın İpek, as well as his home in Ankara.
The Koza Ipek Corporation is active in the media, energy and mining sectors.
Akın İpek said in a written statement on Aug. 31 that the corporation's 27 companies had been under financial inspection for the past two years. "Our group cannot be part of a crime scenario even if it is fictional," he said, vowing to "disprove the slander with documents."
The Vienna-based International Press Institute (IPI) today has called on the Turkish government to stop using anti-terror laws and financial agencies against journalists.
#Turkey finance authorities raid broadcasting houses' owner amid fears of broader media crackdown ahead of election http://t.co/JDyRdwbZJs

—

IPI

(@globalfreemedia) September 1, 2015
#Turkey jails foreign journalists for first time in 15 years http://t.co/6D6tFhtkob

—

RSF

/

RWB

(@RSF_RWB) September 1, 2015