Tighter security to be imposed at European railway stations
Comments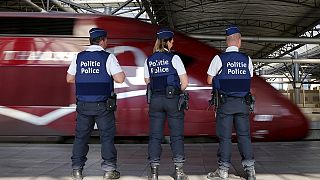 Tighter security controls will be imposed at European railway stations, France's Interior Minister Bernard Cazeneuve has announced following a meeting in Paris with several European counterparts and transport ministers.
Visual passenger identity checks will be reinforced, as well as random controls.
Ministers from the UK, Germany, Italy, Spain, Luxembourg, Belgium, the Netherlands and Switzerland attended the meeting.
"Visual passenger identity checks will be reinforced, as well as random controls," said Cazeneuve. "Official inspections of luggage will step up, both at stations and on board trains."
He added that mixed patrols of law enforcement officers would be enhanced and deployed "more extensively." The patrols, consisting of personnel of a range of nationalities, already exist in several countries
The delegates also discussed an idea initially proposed by the European Commission in 2007, and debated since 2011, which would see the creation of a 'Passenger Name Record' – or PNR – for European air travel.
If given the green light, passenger data would be collected, stored and analysed for law enforcement purposes.
Cazeneuve said the ministers were convinced of the "urgent need to establish a PNR", while adhering to data protection laws. This, he said, would enable the "rapid detection of dangerous individuals" if and when they travel.
Thalys attack
The meeting came just over a week after a foiled attack on a transcontinental Thalys train in which two people were wounded while struggling to subdue a heavily-armed gunman.
Questions have been raised about how the attacker was able to board the train with weapons.
Following the incident, the EC reiterated a long-held stance that the Schengen Treaty on Freedom of Movement is "non-negotiable." However, it underlined that certain increased security controls could be compatible with Schengen, "if they do not have an effect equivalent to border checks."