Large protests in Japan against plans to expand military role
Comments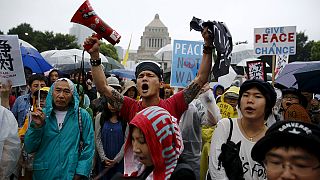 Plans to change Japan's pacifist constitution and allow the military to fight overseas drew tens of thousands of opponents to protest outside parliament in Tokyo.
Organisers put the number at 120,000 and the rally in the capital was one of some 300 around the country over the weekend.
Banners and slogans targeted the prime minister Shinzo Abe. In July he pushed through the lower house of parliament a group of bills allowing Japan's armed forces to defend an ally under attack.
That represents a big change to the country's post-war constraints on the military.
"If I were to describe Japan with one phrase, it would be 'a peaceful nation'. But, right now, the unimaginable, the unrealistic is happening, where peace is being destroyed. That fear is being cast upon this nation right now," said one of the protesters, university professor Mami Aoji.
"Japan should not become a country that wages war. Besides, Japan must build a good relationship with its Asian neighbours," added another female demonstrator.
The bills are due to go before the Japanese parliament's upper chamber in September.
The change to the constitution could affect relations with China, with whom Japan has a territorial dispute over a group of islands in the East China Sea.
Known as the Senkaku islands in Japan, and as the Diaoyu islands in China, they are important because of access to shipping lanes, fishing, and possible gas and oil reserves.
Japan's prime minister wants to strengthen the military's role to contribute more to international peacekeeping efforts and to counter China's growing presence in the region.
Last week Beijing conducted large-scale air and sea exercises for the third time in two months.