Ministers discuss how to protect Europe's trains from terrorism
Comments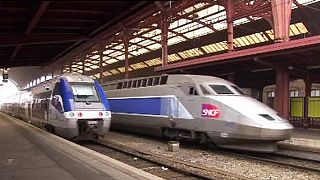 How can Europe's railways be protected from the threat of terrorism?
The subject is being discussed in Paris on Saturday by ministers from nine countries seeking to better coordinate their response to a risk that can no longer be ignored.
Metal detectors, baggage checks, identity controls, and armed guards on board – all have been suggested in the wake of the foiled gun attack in France just over a week ago.
It brought to light the ease with which Moroccan Ayoub el Khazzani was able to board an Amsterdam to Paris train, at Brussels, armed with a kalashnikov and other weapons. Only the intervention of passengers prevented what may have turned into a massacre.
The heroes of the French train attack have given us all a gift – hope | Suzanne Moore http://t.co/TKzRoDIh5Kpic.twitter.com/GbZHHWbExF

— The Guardian (@guardian) 24 Août 2015
Their courage in confronting him has been widely hailed, but the fear is about what will happen the next time – and it seems almost certain there will be a next time.
The shooting took place on a Thalys high-speed train. The Franco-Belgian state transport group runs international trains linking France, Belgium, the Netherlands and Germany.
All four countries are part of the Schengen area through which people travel without the need for passports and security check-ins.
Experts have long said the trains are a potential target for attacks.