Malaysia: Protesters demand resignation of PM Najib Razak over financial scandal
Comments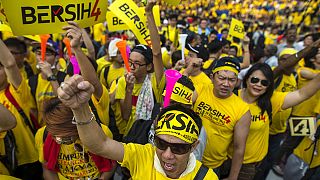 Malaysia's political crisis hit the streets on Saturday with tens of thousands of people denouncing Prime Minister Najib Razak as corrupt and demanding he step down.
Their rally in Kuala Lumpur was declared illegal but pro-democracy protesters want answers about the transfer of $600 million – that is more than 530 million euros – into his bank account.
Razak denies any wrongdoing.
But he has been embroiled in scandal since reports in July that investigators probing the management of debt-laden state fund 1MDB had discovered the transfer to a bank account in his name.
Razak has weathered the storm and political analysts doubt the rally, which will continue on Sunday, will force him out of power.
Najib Razak vigorously denies the suggestion that he ever used public money for personal gain http://t.co/w1EDJHa3i5pic.twitter.com/hteSKpxMme

— The Economist (@TheEconomist) 27 Août 2015
Malaysia's anti-graft agency has said the funds paid into Najib's account were a donation from the Middle East, which came just before a 2013 election. The identity of the donor has not been revealed.
Najib, 62, says he did not take any money for personal gain.