Kyiv-Donetsk prisoner exchange appears to go smoothly
Comments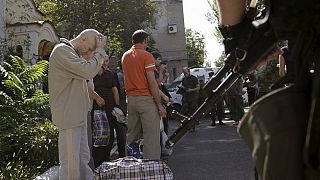 A prisoner exchange has taken place between government forces and pro-Russia rebel fighters in Ukraine.
An agreement was reached to release 12 soldiers from each side on the border of the self-proclaimed Donetsk People's Republic (known as the DNR or DPR).
Of the group of Kyiv-backed fighters, one who was from the area reportedly chose to remain in Donetsk.
Victor Anosov, police spokesperson for the region, said this was the first exchange "which happened in the atmosphere of trust."
However, some gunfire could be heard in the distance as the swap took place.
Ceasefire
The exchange came after the OSCE Special Representative in Ukraine announced the two sides would work towards an end to all ceasefire violations by September 1, when the country's schools are due to reopen after the summer holidays.
A truce was agreed in February, 2015, however sporadic clashes have since threatened the pact.