Chile: Truckers clash with indigenous Mapuche people over lorry fires
Comments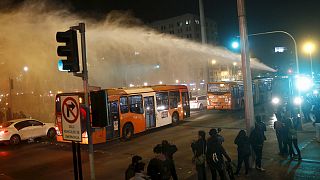 Riot police intervened in Chile's capital Santiago on Thursday amid clashes between lorry drivers and indigenous people.
The truckers were protesting at arson attacks on their vehicles which they blame on Chile's Mapuche indigenous group, amid a row over its historic land rights.
Lorries heading to the demonstration blocked roads to the city.
The Mapuche account for about 600,000 of Chile's 17 million inhabitants and are largely clustered in the country's central-south region, one of its poorest regions and home to much of its forestry and paper industry.
Years of conflict over land claims have increasingly flared into violence between the Mapuche, Chile's biggest indigenous group, and notably, local farmers, forestry companies and police.