Hundreds of African migrants released from Israeli detention centre
Comments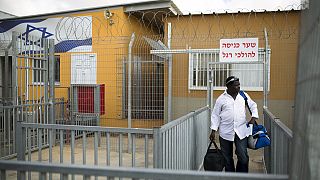 Israel has begun to release hundreds of African migrants following a ruling from the Supreme Court.
More than 1,000 people will be allowed to leave the Holot detention centre. However, they are banned from seeking work in Tel Aviv and Eilat, meaning the release was tempered with worry.
"Today we were lucky but it's not real luck," said Khalit Ahmad, who was released on Tuesday. "We were stuck in Holot (detention centre) for 18-20 months, the state tells you at first that 'you will go to a shelter where it will be decided whether you are a refugee or not', and then after 18 months we're told 'that's it, go away from here'. Where would I work? I don't know. It's very hard."
Given enough food and water for one day, half were released on Tuesday and the remainder will leave on Wednesday. Barred from seeking work in the main areas where many migrants have settled, they face an uncertain future.
The release comes after the Supreme Court ruled that a law which allowed for detention of undocumented migrants for up to 20 months as 'disproportionate'. They ruled that a maximum detention time be set at 12 months, so any person at Holot for one year was allowed to leave. However, the Knesset have six months to revise the law.
The country has an increasingly tough stance towards migrants. Israel argues that it cannot grant asylum seeker status to the estimated 45,000 people living in the country. They have begun offering cash incentives for them to leave. In March Rwanda announced it had made a deal with Israel to receive African migrants in exchange for lucrative grants and sales from Tel Aviv.