Guatemala president denies wrongdoing in corruption scandal
Comments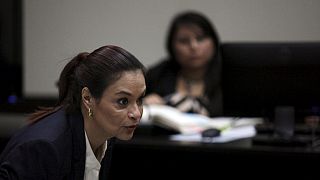 A former vice-president of Guatemala, Roxana Baldetti has appeared in court for the first time since her arrest last week on charges of corruption.
It is alleged that she took milions of euros worth of bribes in a scandal that has rocked the government.
Guatemala's president has also been linked with the scam. It has become known as "La Linea", or "The Line", after the hotline businesses allegedly rang to clear their imports through customs at cut-price rates.
Government supporters on Monday held a rally outside the court house. They have criticised moves to impeach President Otto Perez Molina who denies any wrong doing.
On Sunday the president gave a national address refusing to stand down despite mounting pressure for him to go. However the last remaining ministers in his original cabinet have now quit.
His critics want Perez's presidential immunity from prosecution ended. However elections are being held in early September, and electoral law bars Perez Molina from standing for another term.