14 suspected ISIL activists arrested in joint Spain-Morocco operation
Comments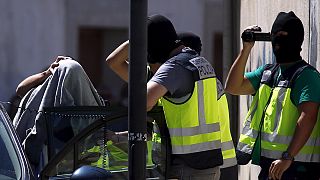 Spain and Morocco have reportedly arrested fourteen people with suspected links to the group calling itself Islamic State (ISIL).
Spain's interior ministry said in a statement that the detained people are suspected of recruiting fighters to join ISIL in Syria and Iraq.
Suspects were arrested in the outskirts of Madrid and in other cities and towns in Morocco .. as part of a joint operation between the two countries.
"We have to take in account that we are confronting terrorism, a jihadist terrorism an international terrorism, that has no location, where the location where they are arrested, has a relative significance," said Spain's Interior Minister Jorge Fernandez Diez.
"All the countries are threatened by these barbarians. We have already said that this is not a religious war, but a war of barbarity to all those who oppose to their fanatic interpretation of Islam, that has nothing to do with the real Islam," Fernandez added.
The crackdown comes days after a Moroccan man who had lived in Spain was arrested over a foiled gun attack on a train from Amsterdam to Paris.