Train heroes to be honoured for bravery
Comments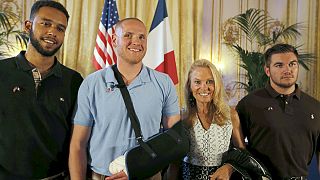 Three US citizens and a Briton who on Friday helped disarm a gunman on a train from Amsterdam to Paris, are to be awarded France's highest honour.
Spencer Stone (23) Antony Sadler (23) Alek Skarlatos (22) and Chris Norman (62) are to meet French President Francois Hollande today ( Monday Aug 24) who will present them with the Legion d'Honneur in recognition of their bravery.
The men, two of whom were American servicemen, have played down their actions saying they just reacted on instinct.
" I didn't really have much of a state of awareness, it wasn't really a conscious decision, we just kind of acted, there was not much thinking going on, at least on my end," said Aleksander Skarlatos who is a National Guard reservist
Another man who also tried to stop the gunman and is French is thought to have has chosen to remain anonymous.
Friday's incident began when the French passenger tried to enter a toilet, encountered the gunman and tried to overpower him. A gun was fired and a passenger was injured by the bullet.
That's when the other men raced to pull the gunman down.
Islamist links
The French authorities claim the suspect, Moroccan national Ayoub El-Khazzani who is 25, has links to radical Islam.
However his lawyer has refuted that his client was a terrorist , rather he just wanted to rob the train passengers.
El-Khazzani who is reported to have lived in France Spain, Belgium and to have travelled to Syria, was armed with box cutter, a pistol and a Kalashnikov assault riffle.
Security to be stepped up
Security on board the high-speed Thalys service on which the incident took place is being stepped up. The trains link major cities in the Netherlands and Belgium to Paris.
France had been on high alert since January when Islamist militants killed 17 people in and around Paris – including the attacks on the offices of the satirical paper, Charlie Hebdo.