Is airport-style security now needed for train travel?
Comments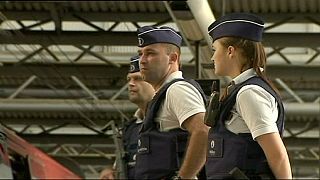 Belgian Prime Minister Charles Michel has called for urgent talks with other European governments to seek more security on cross-border railway services.
The suspected Islamist militant involved in what Michel called a "terrorist attack" on a high-speed train from Amsterdam to Paris on Friday, boarded the service in Brussels.
"The prime minister proposes an urgent meeting of transport and interior ministers from Belgium, France, Germany and the Netherlands to reinforce anti-terrorist measures, notably identity and baggage controls," said Michel's office, after a meeting of his security council.
Security measures will now be stepped up in Belgium but should full airport-style checks now be put in place across Europe?
The question was raised by Michael, a passenger travelling from Brussels Midi Station to Paris.
"Will international trains organise a metal detection system as for planes? I don't know but I hope that my trip will be okay and for the other passengers too but what can we do? It is not in our hands but there are certainly things to be done."
A female passenger in Brussels, also travelling on Saturday, said:
"Well, when we first heard the news, the first reaction is: 'Oh, I'm so glad I was not on that train' but then I got a little bit nervous because we are coming this way and we were heading over to the UK.
"But at the back of our mind, we have seen so much security that we really didn't feel as though we had anything to be very frightened about so we are going to keep travelling."
On Eurostar trains between Paris, London and Brussels, passengers' luggage is screened and identity checks are made.
Reacting to Friday's incident, European Transport Commissioner Violeta Bulc said that passengers' safety is the first priority and that security procedures for train travel will be reassessed.
Security & safety of passengers is our first priority! We will reassess security procedures for train passengers following attack in #arras

— Violeta Bulc (@Bulc_EU) 22 Août 2015