Police foil drone plot to smuggle contraband into US prisons
Comments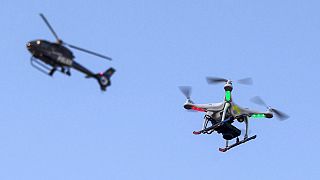 Officials in the US state of Maryland said on Monday (August 24) they foiled a plot to use a drone to sneak contraband items into maximum-security state prisons in western Maryland.
Two suspects were arrested Saturday evening, after being spotted in a vehicle on a property adjacent to the Western Correctional Institution and the North Branch Correctional Institution.
"The vehicle and its occupants had been under surveillance, thanks to a great deal of intelligence information that had been gathered by the Western Correctional Institution, and to the Public Safety intelligence and investigative detectives," said Stephen T. Moyer, Secretary for the Department of Public Safety and Correctional Services.
"Found in that vehicle, were a drone which we believe was about to be used to deliver contraband, into the Western Correctional Institute. Also in the vehicle was a handgun and various contraband," said Moyer.
One of the suspects is being held in Cumberland, without bail. The other suspect is being held on a $250,000 (215,000 euros) bail.