Chinese problems lead to plunging markets
Comments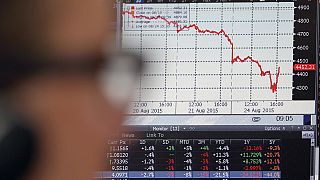 Monday was a nerve-wracking day for traders on the world's stock markets with equities plummeting off the back of China's ongoing problems.
European markets closed down on average around 5.5 percent.
Athens was hardest hit, plunging over ten percent.
London closed down 4.67 percent, Paris 5.35 and the DAX in Frankfurt ended the day with a fall of just under 5 percent, taking it below the 10,000 point level, a significant psychological barrier for investors.
But on the currency markets the the euro made significant gains on Monday.
That was because the problems in China and elsewhere are expected to have an adverse affect on the US economy, making an interest rate rise by the Fed much less likely.
On opening the US stocks were down a whopping six percent- but after a couple of hours' trading the Dow had clawed back four percent.
No need to panic. Yes, the market is scary, but keep your cool http://t.co/Y3CLGr6odb (Getty Images) #BlackMondaypic.twitter.com/Pp8NsC4mTI

—

USA

TODAY

Money (@USATODAYmoney) August 24, 2015
The rise in value of the euro may not be welcomed in all quarters. Recovery in the eurozone is fragile at best and a stronger currency will make exports harder.
The markets are now waiting to see if the steep falls in Shanghai on Monday will be repeated on Tuesday.