Asian stocks tumble to lowest level in three years
Comments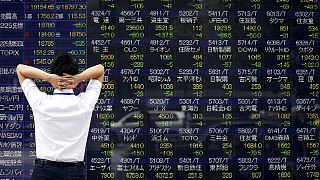 Asian stocks have slumped to their lowest levels in three years.
Hong Kong's Hang Seng was down over five percent, while China's Shanghai index lost all its gains from the year so far.
On Sunday (August 23) China allowed investment in the stock market of up to thirty percent of the value of people's pension funds. The move, expected to counter the decline of the previous four days, did not have the desired effect.
The Chinese market dived 8.5 percent on Monday (August 24).
Investor He Meizhen expressed concern over the situation.
"How can markets drop like this every day? One, two, three, four, five, the market dropped for five days and it never picked up again. After dropping, the market should rise, but it continues to fall. We have no interest to invest. What we earned is all taken away by the market," she said.
At the close of the Tokyo market, the Nikkei Stock Average index had plummeted nearly five percent.
Analysts blame the plunge in share prices on investor concerns over the slowdown in the Chinese economy.