China's 'Black Monday' a symptom of wider malaise in the world's second largest economy
Comments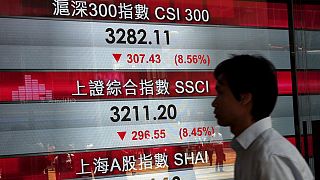 In China markets did not just stumble overnight on Monday, they tumbled.
The Shanghai Composite Index finished trading eight-and-a-half-percent lower, the largest one-day percentage fall in over eight years, and, but for the suspension of some major company stocks, it could have been worse.
This is no one-day wonder. Equities have been sliding at alarming rate since June.
Growth of seven percent in the first quarter of this year may sound impressive in European terms, but the fact is the that the world's second largest economy is slowing down.
Manufacturing output is down and exports have been slipping back.
Factories have been slashing prices and laying off workers.
At 7.4 percent 2014 saw the lowest growth in China for quarter of a century, and analysts say it does not look like picking up anytime soon.
The government and central bank have been attempting to manage the situation, pumping money into the markets and devaluing the Yuan, but so far it has not worked.
"In the bigger picture it's not only the equity market that is commanding the concerns", said Donna Kwok, Senior China Economist at UBS. "The recent push to make the currency more marketised (open to market forces) by shifting the currency policy framework – they're dealing with the aftermath of that as well because capital outflows are likely to be bigger in July as a result."
The markets are anxiously waiting to see what the government will do next.
Some think they will act, perhaps by reducing interest rates.
Others think Beijing may wait and see where the markets takes things, which would be a departure for the controlled economy.
All seem to agree there is more uncertainty ahead.