Ogier on course for third World Rally Championship title
Comments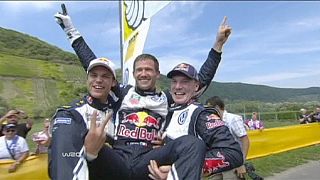 Sebastian Ogier finished the three-day asphalt Rally of Germany 23 seconds ahead of his team-mate Jari-Matti Latvala. Fellow Volkswagen Polo Rally Cars driver Andreas Mikkelson was a further 1 minute 33.6 seconds behind.
The German team has now won every round in the calendar since it entered the WRC in 2013.
Ogier was in front for all but two of the 21 speed tests on Baumholder's military roads, the Saarland's country lanes and the Mosel vineyard tracks near the city of Trier.
The Frenchman will take his third consecutive drivers' title at Coates Rally Australia next month if he finishes ahead of Latvala. This latest victory has left him level with Marcus Grönholm for having the second highest number of wins with 30 victories.
Hamilton wins Belgian Grand Prix
Sebastien Ogier led from start to finish on the German roads and just over the border Lewis Hamilton did exactly the same in the Belgium Grand Prix where the Englishman celebrated his sixth win of the season.
The Formula One world champion's latest victory stretches his lead over Mercedes teammate Nico Rosberg, who finished two seconds behind him, to 28 points with eight races remaining.
Sunday's result is the seventh Mercedes one-two in eleven races.
France's Romain Grosjean took third place for Lotus after Ferrari's Sebastian Vettel, driving in his 150th race and the team's 900th, suffered a right rear tyre blowout on the penultimate lap.
Russian Daniil Kvyat finished fourth with Mexico's Sergio Perez in fifth for Force India.
This latest win for Lewis Hamilton gives puts him at 227 points to Rosberg's 199.
The first of Schumacher's 91
The Spa-Francorchamps circuit in Belgium is one of the most iconic in Formula 1. On the 30th August 1992, it hosted a very important victory for a young Michael Schumacher. It became the first of his record 91 career wins.