Iran: British embassy reopens in Tehran
Comments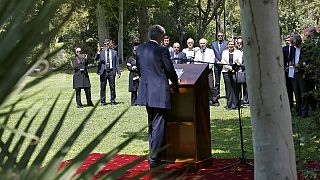 After a four-year closure, the British embassy has reopened in Tehran. Philip Hammond became just the second UK Foreign Secretary to visit Iran since the 1979 Islamic revolution.
He labelled the occasion "the logical next step" in building "confidence and trust between two great nations."
#Britain reopens embassy in #Tehranhttp://t.co/Y29GDCLcTtpic.twitter.com/Dr1qpp1MoN

— Hurriyet Daily News (@HDNER) August 23, 2015
Iran has also opened its embassy in London, with a deal on full ambassador status for both countries expected in the near future.
At first, both embassies will be run by chargé d'affaires.
2011 protests
The embassy was forced to close in November 2011 when protesters ransacked two diplomatic compounds.
British officials were withdrawn and Iranian diplomats expelled from London.
Relic of UK #Tehran embassy invasion 2011, which led to its closure. Graffiti says death to England. pic.twitter.com/EgnogfpjVY

— Jeremy Bowen (@BowenBBC) August 23, 2015
But a nuclear deal struck earlier in 2015 between Tehran and six world powers prompted a renewal of relations between the Islamic Republic and several European countries.
"There is a big deficit of trust at the moment. But the symbolic importance of deciding to reopen embassies in each other's countries is that we have chosen to talk to each other, work together in areas where we have a commonality of interest and continue to make our points in our regular dialogue in the areas where we do not agree. That's what diplomacy is all about."
A small trade delegation travelled with Hammond, who used the occasion to meet Iran's Oil Minister.
Javad Montazeri, euronews' correspondent in Tehran, was positive about the renewed ties.
"Despite all domestic objections, today marks the opening of a new chapter in diplomatic relations between Iran and the UK," he reported.
British hostage released
The foreign secretary also used the occasion to announce the release of a British hostage from Yemen.
"I'm pleased to confirm that a British hostage held in Yemen has been extracted by UAE forces in a military intelligence operation. The British national is safe and well, and is receiving support from British government officials. We are very grateful for the assistance of the UAE."