Germany: Heidenau police officers injured in weekend of anti-migrant riots
Comments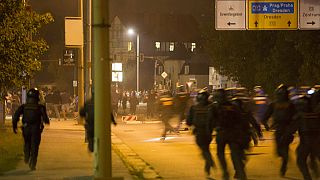 More than 30 police officers have been reported injured in a weekend of riots in the eastern German town of Heidenau.
Angry about the temporary housing of asylum seekers in the area, a group of far-right radicals threw stones, bottles and firecrackers at local law enforcement officials.
Up to 600 migrants are expected to seek shelter locally in a former warehouse.
Nearby, around a hundred people formed a counter-rally in support of the new arrivals.
But buses carrying the migrants to the warehouse have also come under fire from bottles and stones and not everybody has made it through to the refuge.
Migrant arrivals are putting an increasing strain on Germany. In the first quarter of 2015 it received 73,000 asylum requests, which represents an increase of 120 percent on the same period last year.