'Tear gas and stun grenades': Migrants under fire in FYR Macedonia
Comments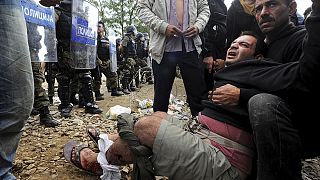 Riot police in the Former Yugoslav Republic of Macedonia (FYROM)
fired tear gas and reportedly stun grenades on Friday to disperse
thousands trying to enter the country from neighbouring Greece.
The crowd, from the Middle East, Africa and Asia, many of them Syrian refugees, had spent a night in the open in no-man's land after
FYROM declared a state of emergency and effectively blocked its southern border to migrants.
At least eight people were reported injured in Friday's clashes.
Up to 2,000 migrants a day have crossed the frontier in recent weeks, heading north to Hungary and onto Western Europe through the borderless Schengen zone.
It has led to desperate scenes of crowds wrestling to board packed trains, with children squeezed through open carriage windows.
#Asylumseekers transiting through #Macedonia in search of safety in Europe jam trains: http://t.co/OytdClIS0jpic.twitter.com/1guFACPren

— UNHCR Central Europe (@RefugeesCE) 18 Août 2015
The crowds stranded in no-man's land may increase through the day as more arrive from Greece, including 2,400 Syrian refugees taken by boat from the island of Kos to the mainland on Thursday.
The United Nations refugee agency is on the ground, and has urged the government to allocate more space to provide shelter for migrants and refugees on its side of the border. The Red Cross is also present.
Some 50,000 migrants arrived on Greek shores from Turkey in July 2015 alone.
The former Yugoslav Republic of Macedonia says it cannot deal with the influx.
The situation is not aided by a tense relationship between FYROM and Greece, rooted in a dispute over Macedonia's name since it declared independence from socialist Yugoslavia in 1991.