Bangkok bombing: at least 10 people involved, foreign terrorism 'unlikely'
Comments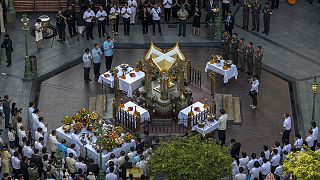 At least 10 people were been behind Monday's deadly bombing at a shrine in Bangkok, Thai police said on Thursday.
National police chief Somyot Pumpanmuang said: "This includes those who looked out on the streets, prepared the bomb and those at the site, and … those who knew the escape route."
Somyot also said the investigation that showed the attack, which killed 20 people at the Erawan hindu shrine, had been planned at least a month in advance.
Police are focusing their hunt on an unidentified young man caught on CCTV leaving a rucksack at the shrine, and have appealed to Interpol for help finding him.
Colonel Winthai Suvaree, a spokesman for Thailand's ruling junta, said security agencies working with counterparts from allied countries had reached a preliminary conclusion that foreign militants were probably not responsible.
"The incident is unlikely to be linked to international terrorism," Winthai said.