International terror link to Bangkok bomb 'unlikely' - Thai junta
Comments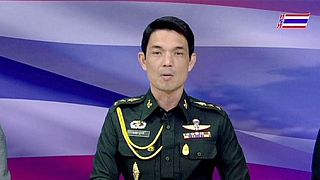 Thailand's military junta says Monday's deadly bomb attack in Bangkok was "unlikely" to be the work of international terrorists.
According to the country's police chief, at least 10 people are suspected of being involved in the atrocity which killed 20 people and injured dozens.
On Wednesday the police issued an arrest warrant for an unidentified man it's thought may have planted the bomb.
"Security agencies have cooperated with agencies from allied countries and have come to the preliminary conclusion that the incident is unlikely to be linked to international terrorism," said junta spokesman Winthai Suvaree.
He added that Chinese tourists – many of whom visit the Erawan shrine – did not seem to have been particularly targeted.
The authorities' comments are likely to refocus attention on domestic groups.
There has been speculation over the opposition Red Shirts, but their leader has denied the movement was involved.
Another possibility is that a previously unknown group was behind the attack.
Most victims were Thai: others were nationals from China, Hong Kong, the UK, Indonesia, Malaysia and Singapore.