Sebastien Coe elected IAAF President
Comments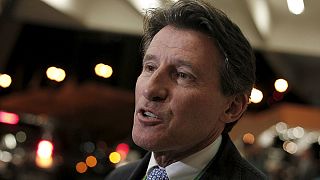 Lord Sebastien Coe has been voted in as the new President of world athletics' governing body IAAF replacing Senegalese Lamine Diack, who has been in charge for 16 years.
The two-time Olympic gold medallist beat former Olympic pole vault champion Sergey Bubka by 115 votes to 92.
After winning the election Coe said: "(I'm) Never ashamed of saying it, track and field is the number one sport. And I'm absolutely delighted to be president of the number one sport. And I will do everything within my human capabilities to make sure that our sport maintains the values, maintains the strong legacies, and the very, very firm foundations that president Diack has left me with.''
Coe is one of Britian's finest ever track athletes winning Olympic gold in the 1500m at the 1980 and '84 Games.
He has also set multiple world records over both the 1500 and 800m.
His 800m world record from 1981 remained unbroken until for 16 years.
Coe's thrilling battles with compatriots Steve Ovett and Steve Cram dominated middle-distance racing for much of the '80s.
After a stint in politics the 58-year-old went on to play a key role in London's successful bid for and staging of the 2012 Olympics and Paralympics.
He becomes only the sixth IAAF president in its 103-year history.
One of his first tasks will be to help restore the governing body's battered image following a series of allegations of widespread doping in the sport.
With the fight against doping high on his agenda Coe has already promised to create an independent anti-doping task force to address the issue within the first 100 days in office.
He has also pledged to revitalise the athletics calendar, increase youth participation, strengthen national federations and increase revenue.