Funerals held for Bangkok bomb dead
Comments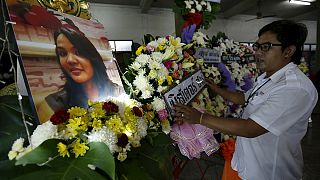 The first funerals of those who died in the Bangkok bombing have been held in the Thai capital.
Monday's explosion claimed the lives of twenty people and wounded dozens more.
Most of the victims were Thai, but some foreigners were also killed.
It happened just outside the Erawan shrine, popular with Hindu worshippers and tourists alike.
The government said the attack was designed to hurt Thailand's economy
An offer worth 25,000 euros has been offered for information leading to the main suspect's arrest.
Police have released a sketch of a man who wore a yellow T-shirt and a backpack and was filmed by security cameras.
Detectives are also looking for two other people seen on CCTV.
One is wearing a red-shirt and another is wearing a white t-shirt.
Both are being treated as suspects, bringing the total number at present to three.