Tiger escapes on set of Detroit photoshoot
Comments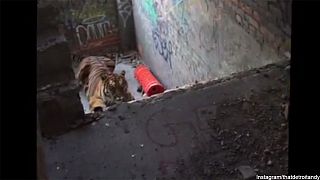 A British photography crew where allegedly evicted from the Packard Plant in Detroit, Michigan, yesterday (August 17) after bringing a live tiger on set without informing the owners of the building. What's more, the tiger is then reported to have escaped and hidden in a stairwell.
In a video made public on social media yesterday, a friend of one of the crew and local Detroiter Andy Didorosi can be seen trying to coax the tiger out of its hiding place with what appear to be power tools.
Didorosi commented on the unusual situation on his Facebook page saying, "I'm going to help a friend scare a tiger out of hiding in a staircase. Mondays are always odd." He added: "When your friend calls and says he needs help getting a tiger out of a staircase, you listen. (I just happened to be the closest dumb person to the scene.)"
Local media the Daily Detroit has reported that the crew, working with British photographer David Yarrow, also brought "two wolves, and a bobcat" into the plant, as well as the large tiger.
Reports suggest that the the plant was secured by midday and there is "no further threat of dangerous wildlife".