Hogan and Morgan win British Open SpeedGolf Championship titles
Comments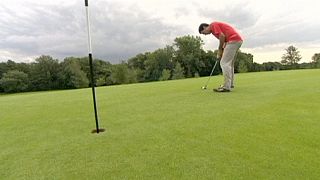 When you think of golf, being fit and running around the fairways to quickly taking your shots against the clock isn't quite what most people have in mind.
But that's exactly the goal in SpeedGolf.
A maximum of seven clubs and no wheeled, powered or other such club transport devices or caddies are allowed.
This exciting alternative to traditional golf is growing in global popularity.
Thirty international competitors between the ages of 17 and 57 took part in the British Open Speedgolf Championship over the weekend at Dale Hill Golf Club in East Sussex
Rob Hogan hit a 77 in 34 minutes for 111.04 points to take the men's title while Emma Morgan shot 88 in 64 minutes for 152.22 points to win the women's crown.
With participation levels in traditional golf taking a hit in recent years because of the time it takes to play – Speedgolf might just be the solution to entice the younger generation to pick up a club, hit the ball and run.