Syria refugees begin boarding Greek passenger ship in Kos
Comments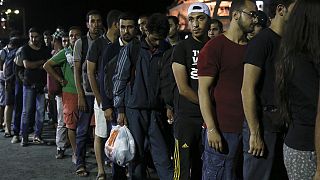 Syrian refugees on the Greek island of Kos started boarding a giant passenger ferry in the early hours of Sunday morning (August 16).
Crowds of Syrians have been given temporary accommodation on the ship. They had been sleeping rough since arriving from Turkey in flimsy boats.
The ferry can house up to 2,500 people. The refugees will wait on board for temporary travel documents before leaving the island and continuing their journeys to other parts of Europe.
On Saturday (August 15), protests in Kos turned violent in the summer heat. Around 50 refugees from Afghanistan, Pakistan and Iran were angry that Syrians were being given priority processing.
That's because Syrians have greater rights under international law as their country is in the throes of a civil war.
Thousands of people are waiting to apply for refugee protection. Every day, they are joined by hundreds more.
As Greece debates how best to screen and document everybody, the wait for passage off the island looks likely to continue.