Sicily receives hundreds of migrants rescued from Mediterranean
Comments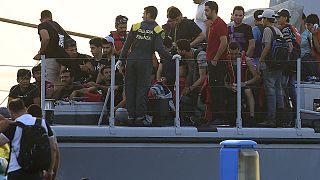 Sicily has received some of the 719 people rescued from the Mediterranean on Saturday (August 15).
Three operations were carried out, coordinated by the Italian Coast Guard.
A group of 420 arrived in Augusta, in the south east of the island.
A Civil Protection Officer described the situation:
"They left from Alexandria, Egypt, ten days ago. They have arrived here in the Port of Augusta on two different ships, one from the Croatian Coast Guard and one from the Italian finance police. There are many families, many children, mainly from Iraq, but also from Libya," said Marco Bertoni.
The group underwent medical examinations before beginning the process of applying for papers to stay in Europe.
They could be considered the lucky ones. On the same day, 49 people were found dead in the hold of a waterlogged boat, some 34 kilometres off the coast of Libya. They are believed to have suffocated as a result of inhaling fuel fumes.
A group of 312 people was rescued from the same boat. A Norwegian rescue vessel is expected to take them to Catania, Sicily, on Monday (August 17).