Lorry aluminium spill sets German motorway on fire
Comments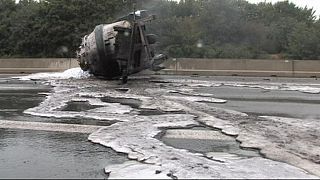 Motorway traffic was serverely disrupted near Dortmund in western Germany on Sunday after a lorry carrying liquid aluminium overturned on the A1.
16 August 2015 #Liquid-aluminium-accident on A1 in Germany pic.twitter.com/BZs3f481w2

— Robert Stróż (@robert_stroz) August 16, 2015
According to police the vehicle skidded for reasons unknown, and crashed into the central reservation barrier before spilling its hot load onto the road, setting fire to it.
The accident blocked all three lanes.
The driver of the lorry was slightly injured.