China:fear and anger in the wake of the Tianjin disaster
Comments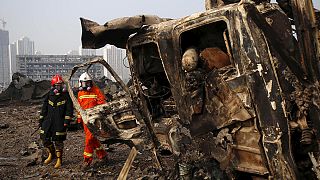 Salvage teams pick their way through the remains of a chemical plant in China, after an explosion so immense it was visible from space.
Toxic chemicals found at China blast site http://t.co/dVsZfonMfZpic.twitter.com/OyAT1WYsPP

— Wall Street Journal (@WSJ) August 16, 2015
A series of blasts tore through warehouses storing hazardous substances in the north-eastern port city of Tianjin last Wednesday.
Concern grew following reports that tonnes of toxic sodium cyanide was stored on site.
Efforts are underway to calm contamination fears:
"Right now, apart from ammonia, which is above readings of one milligram, all other chemicals are within the standard readings even several hundred metres from the site of the blast." said Shi Luze, the Chief of Staff of the Beijing Military Region
At least 112 people were killed in the explosions.
Hundreds of people are being treated in hospital.
Dozens of websites have been shut down for allegedly publishing unverified information about the threat of contamination.
50 websites punished for spreading rumors about #Tianjin blasts http://t.co/gl7BW1m4a8pic.twitter.com/xCZCquBtJk

— China Xinhua News (@XHNews) August 16, 2015
Despite the crackdown, there is still concern.
"We are not happy at all," one local resident told reporters, "because environmental pollution does not just go away in a couple of years, it remains a risk for the next generation."
95 people are still missing. 85 of them are firefighters.
Angry relatives of missing China firefighters storm a news conference in Tianjin http://t.co/oRRe4VyMn1pic.twitter.com/nTPViTYgW2

— GlobalPost (@GlobalPost) August 15, 2015
Their relatives have staged a series of angry protests:
"It has been several days now," said one man, carrying a photograph of his son. "I don't know if my son is still alive or dead. The government won't give us any information at all."
The lack of information about missing relatives coupled with the potential threat of contamination is making an already difficult situation unbearable for some.