Brazil: protestors call for President to be impeached
Comments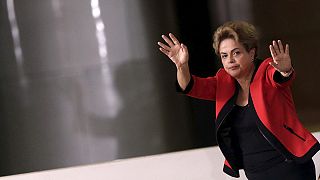 This Sunday wil be a day of protests across Brazil.
Millions are expected to take to the streets to call for their president to be impeached.
Hundreds of thousands of angry Brazilians are expected to protest Sunday, posing a key test for President Rousseff http://t.co/7iw2w5mlCR

— Bloomberg Business (@business) August 14, 2015
Corruption allegations and a struggling economy
A corruption scandal and a struggling economy mean Dilma Rousseff's approval rating has fallen to a record low.
A wide-ranging investigation is underway into allegations of wrongdoing at the state-owned oil company, Petrobras.
There is no evidence the president benefited from the alleged corruption, or even was aware of it.
Others say a court ruling on whether Rousseff diverted state money to campaign for re-election last year would provide stronger grounds for impeachment.
Opinion polls suggest seven out of ten Brazilians believe Dilma Rousseff has run the country's economy into the ground.
She has denied any wrongdoing and refused to resign.
Some are calling for a more measured response, fearing impeachment could undermine Brazil's developing political stability.