Greece clinches third bailout worth 86 billion euros
Comments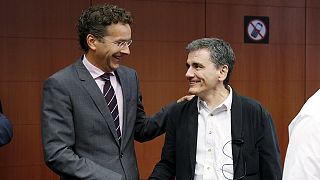 Greece has secured a third bailout worth 86 billion euros after Greek lawmakers accepted their tough conditions.
It has an opportunity for Greek people to reform their public sector, to address the issues of corruption, to address the issues of tax evasion and a number of very important structural reforms.
The Dutch finance minister said he was optimistic the one remaining uncertainty, the International Monetary Fund's (IMF) role in the deal, will be overcome.
The Greek finance minister addressed reporters after clinching the bailout.
"This deal we have never hidden the fact has many opportunities," said Euclid Tsakalotos. "It has an opportunity for Greek people to reform their public sector, to address the issues of corruption, to address the issues of tax evasion and a number of very important structural reforms."
Euronews correspondent Joana Hostein reported: "The Greeks will receive their first payment next Thursday. That money that will pay off the European Central Bank on time. Ten billion euros will be unlocked to recapitalise the Greek banks, to actually revive a banking system weakened since the beginning of the summer. The rest of the first installment will be released during the autumn, after the creditors confirm the reforms have been successfully implemented. They will closely monitor Greece over the next three years."
Greece edges further back from a crisis that threatened the integrity of the single currency http://t.co/pdEzyKakS2pic.twitter.com/dD3aMDagZ0

— Bloomberg Business (@business) August 15, 2015