Eurozone finance ministers back third Greek bailout
Comments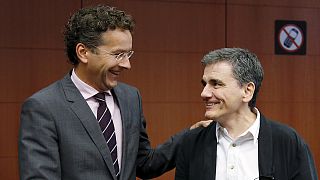 The finance ministers from the 19 countries that use the single European currency have approved a third bailout for Greece.
The informal body, known as the Eurogroup, backed granting Athens 86 billion euros in emergency loans.
Dutch Finance Minister Jeroen Dijsselbloem, who chairs the Eurogroup, said the agreement was "comprehensive and ambitious.
"If implemented with determination, the deal will allow the Greek economy to return to growth," he told reporters after talks in Brussels.
It ends – for now – the uncertainty that has been hanging over Greece's future in the eurozone.
"The message of today's Eurogroup is loud and clear: on this basis, Greece is and will irreversibly remain a member of the euro area," said European Commission president Jean-Claude Juncker.
The decision came hours after MPs in Greece voted to support the details of the bailout.
The Greek government will have to enact further deep spending cuts and hike taxes as part of the agreement.
It must also crack down on tax evasion and gradually phase out early retirement schemes.
Now, a number of eurozone parliaments will have to approve the deal – including the German Bundestag.