Brazil shooting spree leaves 19 people dead around Sao Paulo
Comments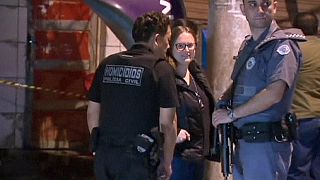 At least 19 people have been shot dead in multiple attacks around Brazil's biggest city Sao Paulo.
At least 10 of the dead were shot at a bar after hooded men got out of a car and opened fire.
One man was shot outside an ice cream store. Another was shot by two men on a motorbike.
"Obviously an event like this one is a serious event that has to be investigated in a different, urgent, way due to the seriousness and it will be investigated by the task force and I am sure the police will quickly solve the case," Alexandre de Morase, head of Sao Paulo State Public Safety Department, told a news conference.
Officials are investigating the possibility of targeted killings.
Some analysts have suggested revenge attacks after two officers were arrested in May in connection with the murder of eight men at a football supporters group in Sao Paulo.