Ruling party chief ousted in Myanmar power struggle
Comments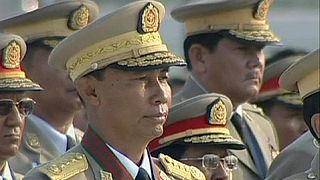 Amid a show of strength by security forces, the head of Myanmar's powerful ruling party has been ousted.
Shwe Mann, who is also the speaker of parliament, is said to be effectively under some form of house arrest.
His removal comes amid a bitter power struggle with Myanmar's President Thein Sein. Both men are former top military officers.
Shwe Mann had built ties with Nobel laureate Aung San Suu Kyi whose opposition party is set to do well in November's landmark election, Myanmar's first nationwide ballot since the end of direct military rule.
The ruling party's choice of candidates is said to have heightened tension between the president and Shwe Mann.
Conservative forces strongly linked to the military appear to have made their move by replacing him.
It is now four years since Myanmar's military handed over power to a semi-civilian government after almost half a century of rule.