Poland's president criticises NATO for treating country like 'buffer zone'
Comments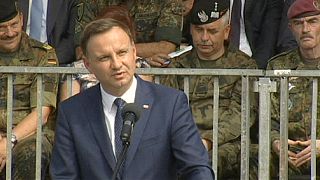 Poland's president has lashed out at NATO, saying his country is being treated like a "buffer zone" between Russia and Germany.
Andrzej Duda is calling for stronger security guarantees and for the alliance to bolster its work on Polish soil.
"I will do my best in cooperation with the prime minister and defence minister to get more of a NATO presence in Poland. And connected to this is securing more guarantees for Poland and central eastern Europe," said Duda.
Duda is a vocal critic of Russia's annexation of Crimea and its perceived support for separatists in Ukraine.
Germany and some other NATO members have blocked appeals by Warsaw and other east European members for a permanent NATO combat presence in the region.
The alliance has opted instead to intensify joint exercises and rotate troops through the area.
The United States is studying proposals to store military equipment in several East European countries that its troops could use in the case of an attack on NATO's eastern flank.
Moscow has denounced this as aggressive and threatened to beef up its own forces in response, if it happens.