Nearly four million litres of contaminated water leaks into Colorado river system
Comments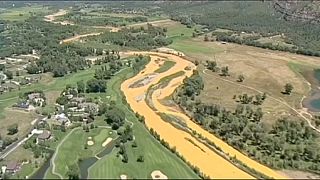 In the US nearly four million litres of waste water containing toxins has been a leaked into a local river system in Colorado.
The Environmental Protection Agency said a team of US regulators probing contamination at a gold mine had accidentally released the water, which is orange coloured and contains metals.
Health officials warned water users living downstream to turn off intakes and avoid water-borne recreational activity until the contaminated water has passed.